My Friend – Ben
Graphic Animated GIF – of my Dog Ben, the bottom area has red flares that animate, and his mouth slightly opens and closes if you watch carefully.
Full View: NFT – My Friend Ben
(May be slow to load at times)
Designed in April 2021
By Omega Magnus
Human Soul?
Video Clip – it shows a representation of the head of a person's soul with animation.
We are more than flesh, death is the shedding of a past self to become more. Like a caterpillar to a butterfly we have the potential to transcend this life to become greater, something beautiful, something closer to perfection.
Full View: NFT The Human Soul
Designed in April 2021
By Omega Magnus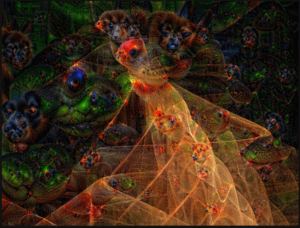 Evolution of Animals
Graphic Image – it is a fractal design that embeds different animals. Depending on the viewer you will see different ones when you look at it. It is actually a very complicated piece of work that triggers a different animals to different people on a subconscious level that brings forth the primary animal forward for each person. Some see a Snake, Mouse, Frog, Fish, and others as the primary animal. What do you see in the picture when you look at it?
Full View: NFT Evolution of Animals
Design in April 2021
By Omega Magnus
Forgotten Dream
I sometimes have these incredible dreams in vivid color with great back stories and well developed characters. Then some out side source, my wife, one of my dogs, a phone call pulls me out of it very suddenly. It that moment of awareness the dream begins to crash around me leaving me frustrated and desperate to hold on to it, but I can not.
This Art Work – "Forgotten Dream" is my representation me trying to hold on to that dream as I wake up.
Full View: NFT – Forgotten Dream
(May be slow to load at times)
Designed in May 2021
By Omega Magnus